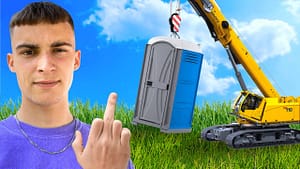 Van angst om de werftoiletten te gebruiken tot ontslag door de jaloezie van je collega's, dat klinkt als een epische film waarvan Mathias de regisseur is. Er is geen weg meer terug.
Lees Meer »
I used to be the biggest school loser. As soon as I got my first job as a customer agent, I was daydreaming, staring outside the windows, about possibilities beyond imagination. Until my parents divorced and I lost my second job, as a video editor. The simulation of a safe and warm life shattered. I got opportunities in Spain, where I lost all of my money after working with the wrong people. Long story short, every single time, I was climbing a mountain to the top to start at the beginning again.
Life will apparently force you to take action when you experience the most pain. During this phase of my life, I got obsessed with Personal Growth and Investing. I invested over €100.000 in my personal development.
I got obsessed with our mind, psychology, people, business, success and finally could confirm that my knowledge had led to power and I became a different person. Today I'm on a life mission to help you too!